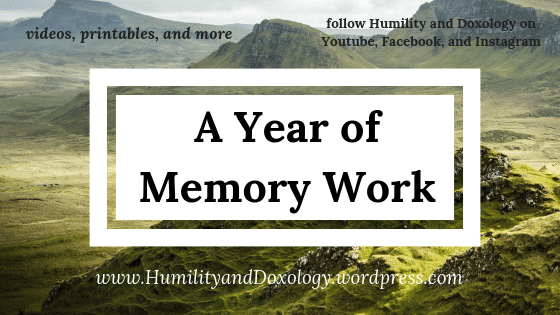 Announcing a Year of Memory Work: 52 weeks of poetry, speeches, and more
I could not be more excited to share this news with you all!
Throughout 2019 I am creating a Year of Memory Work for you all for FREE!
That's right: 52 weeks of beautiful poetry, famous speeches, historic documents, and more are coming your way.
Each week in 2019, I will share a video in which I will read or recite a favorite piece of memory work.  There will also be a printable available on the Year of Memory Work landing page so you and your family can recite along with me on the video.  Make sure you're subscribed to Humility and Doxology on Youtube and have liked Humility and Doxology on Facebook so you don't miss a single video!
Some of my favorites so far have been my 6-year-old's recitation of "My Shadow," "Death Be Not Proud," and my slightly melodramatic recounting of "Casey at the Bat."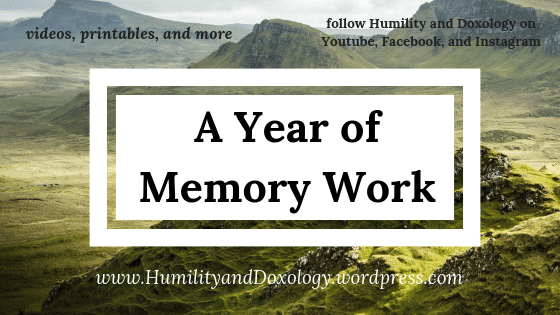 Poetry, speeches, lengthier passages of Scripture, and original historic documents are a key part of our family's morning time routine.  Considering the limits of our time and energy, I have chosen to focus on those elements rather than lists of facts.
Many families also desire to incorporate these elements of truth, goodness, and beauty in their daily routines, but are unsure where to begin.
Some may be stymied by indecision, feeling a burden to choose the "perfect" or the "best" poem or Bible verse.  (Spoiler alert: there is no perfect memory list, and you won't find a collection of memory work that will ensure your children become godly, brilliant, and kind.)
Other times, it is feelings of inadequacy that keep someone from incorporating memory work.  Perhaps you don't feel equipped to choose memory work, and you don't even know where to go or how to start.
A Year of Memory Work to Inspire and Equip
Whether you relate to either of those challenges, neither, or something else entirely, my desire is to inspire you with this Year of Memory Work!  I've curated a list for you from some of my favorite things.  Each week, all you have to do is print out the pdf and recite along with me!
Whether you incorporate memory work in your morning time/circle time routine, poetry teatime, or read-aloud time before bed, I hope the Year of Memory Work enables you to more easily incorporate these beautiful elements into your family's year.
I also hope you leave 2019 feeling equipped to make your own Year of Memory work in the years ahead.
Is there a selection you don't care for in the Year of Memory Work?  Skip it, of course!  You can review a previous week's selection, or be brave and choose your own poem.
Is there a bit of memory work that entrances your children and captures your imagination?  Feel free to take a few extra weeks on that video.
These videos and this list are to be your tools, not your master.  Use them as best fits in your schedule!  May they be a blessing to you!
I would love to see pictures or videos of you or your children reciting some of the things we learn this year.  I'd love it if you'd tag me on social media (I'm @HumilityandDoxology on Instagram, and you can also find me on Facebook and Youtube) so I can like and comment!